The three cows above are bred for tons of horn. Foxfire, the sire of Tipper and Twinkle, won the 2006 horn showcase with 93 7/8" total horn. Tipper's dam, Delta Tipper is an Emperor daughter with at least 62" tip to tip. ACC First Lady's dam, GF Atlanta is an exceptional GF G-Man daughter with 66 1/4" horns and good size, not to mention the brindle coloring she passed on to First Lady.
All three of these cows were bred to the big-horned Arrowhead Cattle Co. herd sire MD Seneca Diamond, shown to the right, and Twinkle and First Lady both had heifers. The horn genetics here are tremendous and we are excited to add them to our breeding program.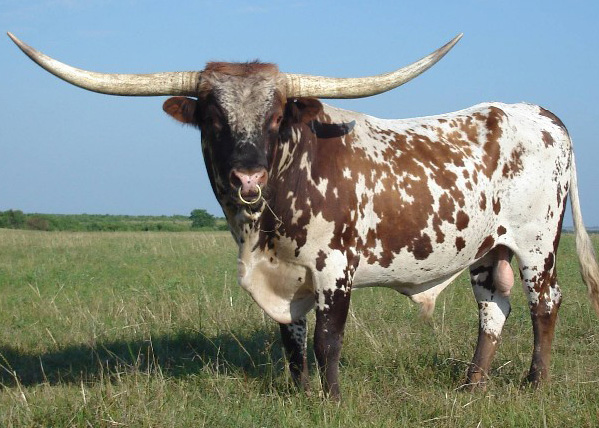 MD Seneca Diamond
70 7/8" Tip to Tip!!!

The four heifers shown below are from Craig Perez's first calf crop out of Seneca Diamond. While it is too early to tell just how they will grow, each has the genetic potential for tremendous horn. We are most excited about ACC Tiffany, whose dam is a 67 1/2" own daughter of Phenomenon. That is over 138" tip to tip between her two parents. ACC Jewel's dam is a young cow out of Eddie Wood's breeding program whose horns are already over 60" at age four. ACC Dream Diamond is out of a 60" horned Phenomenon daughter, making her a 3/4 sister to Tiffany. She has good size, color and horn potential. ACC Seneca Delight is out of an Overwhelming Toro (75") daughter. Not only do each of these heifers have a 70" horned sire, but each of them has very good, if not exceptional, horn genetics coming from the bottom side as well. We are very excited about adding these heifers to our program and are looking forward to watching them grow.